Vow renewal invitations are something new for me. I think back to my wedding day and there is so much I would do different, but also a lot I would seep the same. My husband and I are coming up on 10 years (in August of 2020) and I often think about a vow renewal. Would we even have one? What would we do? Where would we do it? Who would we invite? Ultimately, I think we would just want to do a giant party again, with a DJ and an open bar (after saying I Do again, of course).
I got contacted by a client on facebook about a vow renewal by a new client. They are going to be celebrating 25 years marriage this summer. She was going to order something online, however, she came across Direction Designs on a facebook page and liked that we were both local to Chula Vista. She proceeded to ask me if I could create vow renewal invitations. I am not one to pass up work. Furthermore, I am not one to pass up on making a social occasion more special.
She asked if I could do something with water color flowers. That was it. I love a project where the client says "impress me". Immediately, I took to the internet for inspiration because I had never done vow renewal invitations. Then, working with my iPad in Illustrator I created custom water color flowers. To me, summer wedding (or vow renewal) says bright, vibrant flower bouquets with lots of greenery. My client was thinking the same.
This is the design she chose but scroll to see the runner up vow renewal invitations below!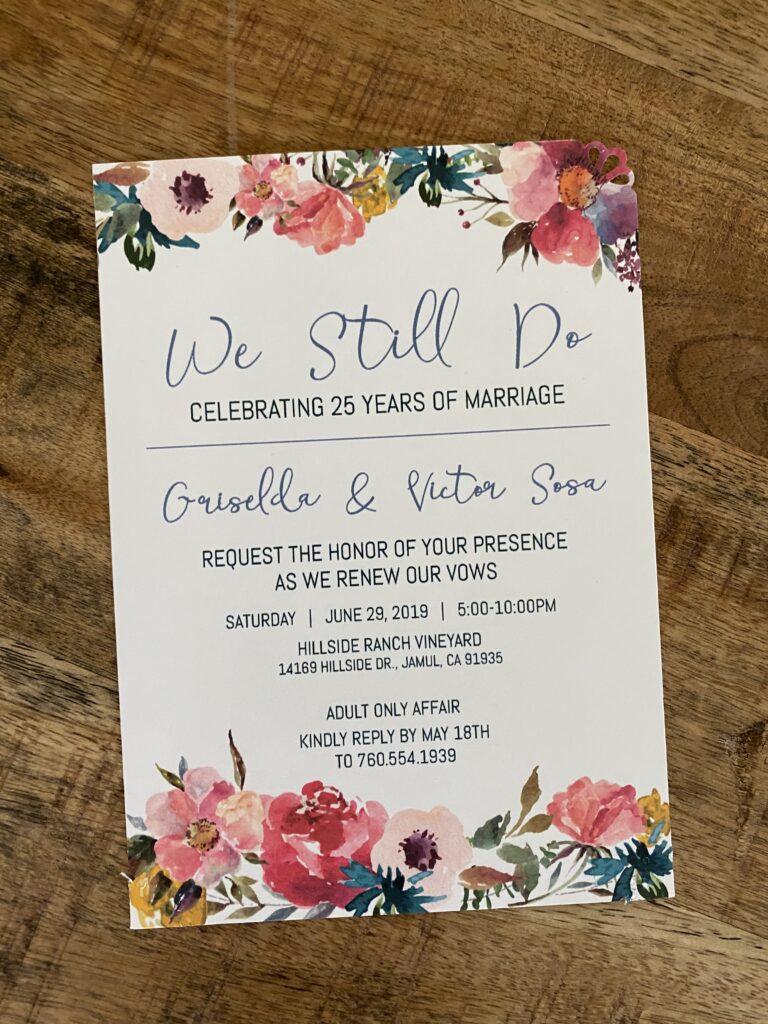 The designs below didn't make the cut but they are all near and dear to my heart. There is something effortless about flowers and gold accents.
Finally, I thank Griselda and her husband of 25 years for the opportunity to be a part of their big day and I wish many congratulations to them! How can I help make a special occasion more special? Contact me today or look in my Etsy shop for more !