Organic baby shower invitations are very popular right now. I have had a lot of requests for this type of invitation. The requests usually include the words organic and natural and warm. I love all these words. More over, In design, organic should be a balance between structural and natural elements. It should feel like everything works well together and nothing is vying for all of the attention. Nothing is boastful, rather everything is humble.
This project was special because it was for my pregnant friend. She had pinned a ton of organic baby shower invitations and asked me to just run with it. I noticed a lot of leaves, greenery, twigs, and flowers. All of the designs and elements together would have been chaos. Moreover, it would have been way too many ideas all in one invitation. Then I saw a really simple wreath design. I went wit that idea and incorporated pink flowers because they knew they were having a girl.
In addition to an organic baby shower invitation, she wanted a diaper raffle card and a "books for baby" card. They make great invitation inserts and even better gifts for the parents-to-be. I am a huge fan of the diaper raffle cards. When I was pregnant, both times, we received so many diapers at the baby shower. It was a true life saver.
In conclusion, these organic baby shower invitations are the perfect combination of structural and natural elements. The organic flowers and greenery flow so well together with the structural text. This project feels very cohesive.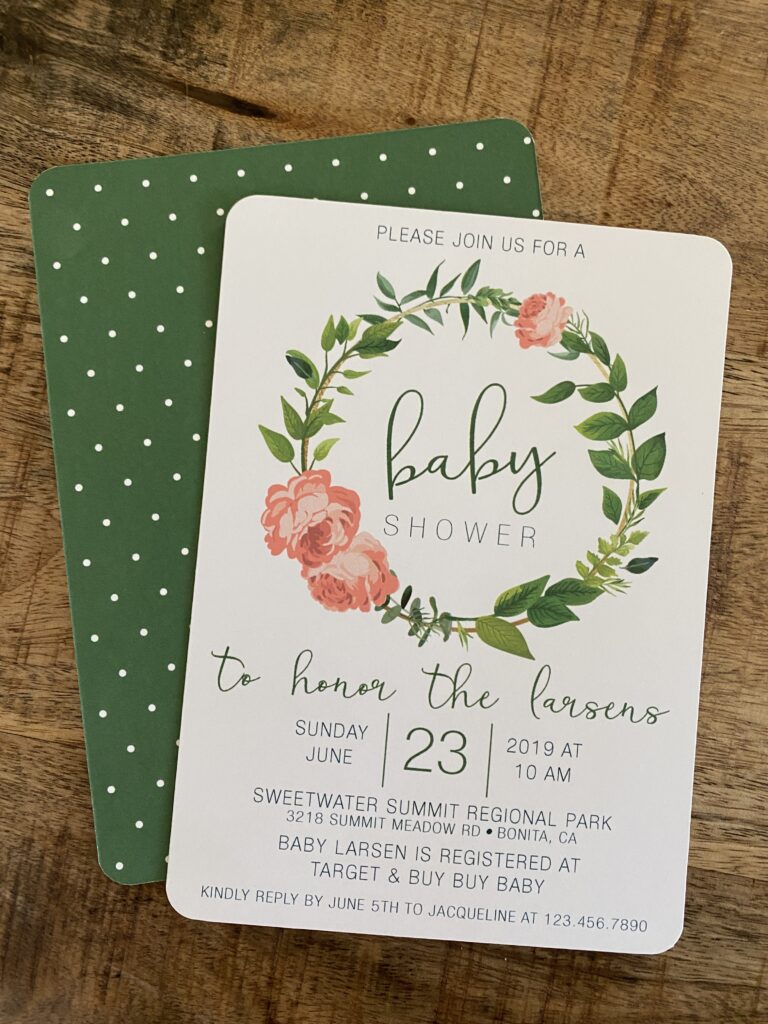 My client didn't want the back printed, but I could't help myself for my "example invites", it was just so cute with the green polka dot background.
Check out the rest of the pictures below and tell me what you think! I adore them and hope you do too!