This bachelorette weekend getaway invitation was a fun project to work on. Previously, I designed an invitation for a wedding that involved some of the same elements. The gold geometric shapes and greenery are my favorite things to work with lately. It feels effortless and looks stunning on white or ivory cardstock paper.
My client reached out to me and asked about organic designs that might go well with a bachelorette weekend getaway. In addition, she wanted her gusts to be as prepared as possible so she needed weekend information to be included with the invitation. She also wanted to make sure it was done in a fun, smart way. We worked together to come up with a unique way to provide extra information to the guests. Instead of a back on the reverse side of the bachelorette weekend getaway invitation, we put the "weekend information" on there. In the background we placed an image of the spa where they were going. Two birds, one stone.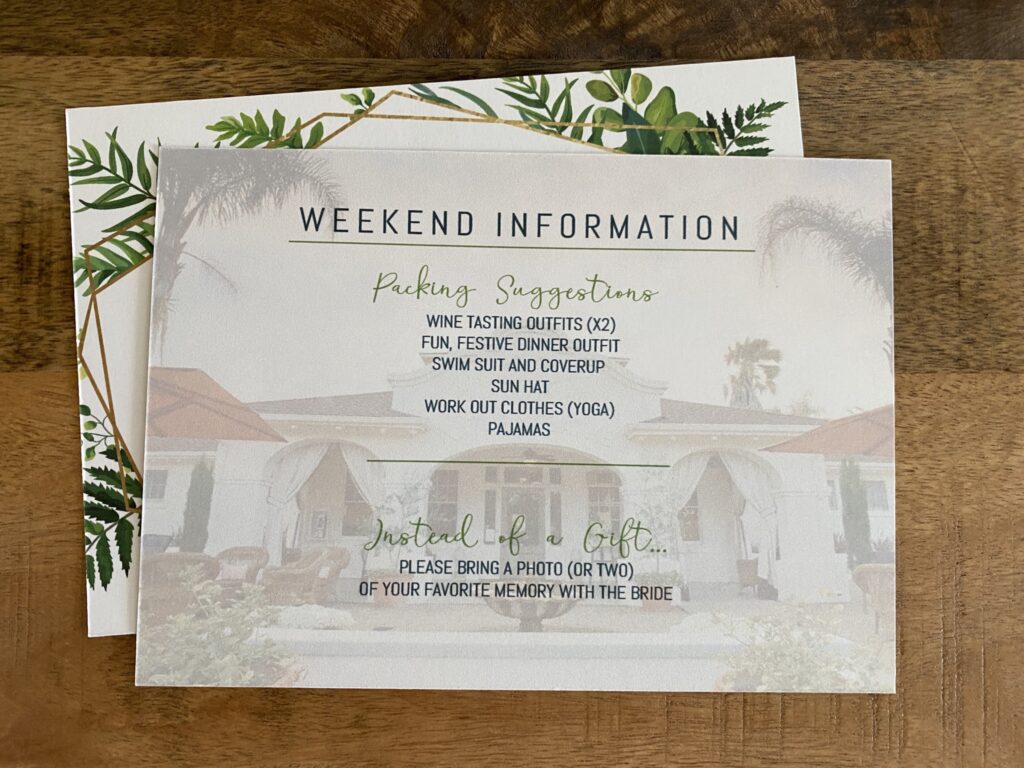 In addition to "weekend information", my client wanted each guest to have a "schedule of events". We designed it to be a menu style card that she would hand out when the guests arrived at the spa. It would be the same effortless style with greenery and gold. We included all scheduled events, meals and free time. I know I am a planner and I want to know when I will have down time to take a nap or get ready. This is smart for a bachelorette weekend getaway for sure!
In conclusion, this invite was one of my favorites. It's a transferrable design that I will use for many occasions. This design is perfect for a bridal shower, baby shower, wedding invitation, vow renewal, birthday party, retirement celebration or many more. Use your imagination!